Strain Background: BALB/c
The reliable monitoring and sorting of IL-4-secreting cells enables you to efficiently delineate the immune response polarization toward the Th2 pathway, and therefore represents a powerful drug testing tool to:
■

Modulate chronic inflammation caused by tissue-resident macrophages

■

Study airway inflammation related to allergic asthma
This IL-4 reporter mouse model is widely used and validated, with more than 60 publications available from independent renowned laboratories.
Model Features:
■

Physiological expression of IL-4

■

eGFP reporter faithfully mirrors IL-4 expression
Model Validation:
IL-4 is the canonical marker of Th2 cells and is known to induce differentiation of naive helper T cells to Th2 cell. The main function of Th2 cells is to stimulate B cell proliferation, differentiation and antibody production, which is related to humoral immunity. In contrary to other existing IL-4 reporter models generated by random insertion, this Knock-in mouse line preserves the physiological expression of IL-4 and enables monitoring of Th2 activity.
No deregulation of endogenous IL-4 expression:
●

Endogenous IL-4 is expressed and functional: reporter gene inserted in the 3'UTR of the endogenous IL-4 locus

●

Reporter faithfully mirrors IL-4 expression
Suitable model for your Th2 polarization monitoring studies
●

IL-4 expressing cells could be directly detected by monitoring eGFP expression (Fig. 1)

●

Uncompromised immune system: intact production of IL-4 in response to infection or challenge (Fig. 2)

●

Optimum monitoring of Th2 cell trafficking and cell sorting

Figure 1. eGFP expression correlates with IL-4-expressing T cells and reflects IL-4 production.
a) In contrast to Th1 conditions, the Th2-specific conditions on a 4get cell's eGFP- population, leads to a great increase expression of eGFP, reflecting IL-4 production. Purified, naive CD4+ eGFP- homozygous 4get T cells were labeled with PKH26 red fluor. Cells were cultured under Th1, neutral, or Th2 conditions in the presence of antigen-presenting cells and analyzed on day 4, after gating on CD4+ cells. b) Only under Th2 conditions did 4get cells specifically express IL-4. Splenocytes from wild-type (+/+, open bars) and heterozygous (+/4get, hatched bars) or homozygous (4get/4get, dark bars) 4get mice were depleted of CD8+ cells by complement lysis and stimulated under Th1 or Th2 conditions for 5 days. Cells were washed and re-stimulated and supernatants were collected after 48 hours and analyzed for IL-4 and IFN-γ by ELISA.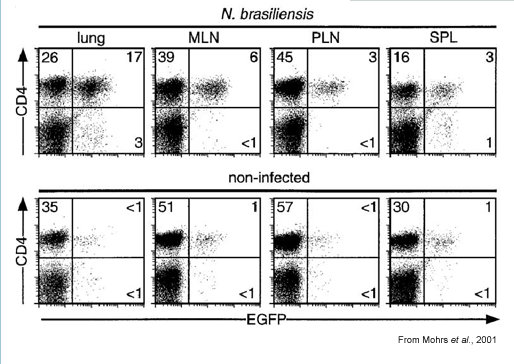 Figure 2. 4get cells retain the capacity to respond to N. brasiliensis infection in vivo by producing huge amount of IL-4. Homozygous 4get mice were infected with N. brasiliensis. FACS analysis of lung, mesenteric lymph nodes (MLN), peripheral lymph nodes (PLN), and spleen (SPL) was performed after 10 days. Cells from the forward- and sidescatter lymphocyte gate were examined for CD4 and eGFP expression.
Selective References:
1. Mohrs M; Shinkai K; Mohrs K; Locksley RM.2001. Analysis of type 2 immunity in vivo with a bicistronic IL-4 reporter. Immunity 15(2):303-11.
2. Sofi MH; Qiao Y; Ansel KM; Kubo M; Chang CH.2011. Induction and Maintenance of IL-4 Expression Are Regulated Differently by the 3' Enhancer in CD4 T Cells. J Immunol 186(5):2792-9.
3. Wu D; Molofsky AB; Liang HE; Ricardo-Gonzalez RR; Jouihan HA; Bando JK; Chawla A; Locksley RM.2011.Eosinophils sustain adipose alternatively activated macrophages associated with glucose homeostasis. Science 332(6026):243-7.