Double Humanized Neonatal Fc Receptor (FcRn)/Serum Albumin (SA) - AlbuMusTM Model
Improving the pharmacokinetic properties of therapeutic proteins has become a major challenge in the development of advanced biologics over the past decade.
By fusing or conjugating therapeutic protein drugs to human albumin, to enhance their half-life from minutes to hours, and even to days. The reasons for the prolonged half-life of albumin-linked drugs are:
■

The high-affinity interaction between human albumin and neonatal Fc receptor (FcRn) can protect protein drug molecules from being cleared by the kidney and finally transport into the cell.

■

There are huge differences in the SA/FcRn interaction between mouse and human, which limits the use of mice as a preclinical model to detect the pharmacokinetics (PK) of protein drugs that bind to albumin.
The humanized SA/FcRn mouse for preclinical drug metabolism prediction can more accurately predict the half-life of candidate drugs.
Strain Background: C57BL/6N
Description of AlbuMusTM:
The expression of hSA in previously established albumin humanized models did not conform to the normal physiological level and expression pattern. Through in-depth analysis of the maturation process of albumin complex and FcRn expression and regulation, a double humanized SA/FcRn model was established - the physiological level of hSA and the expression pattern of hFcRn in this model accord with the normal physiological level.
■

HSA and hFcRn are controlled by their respective endogenous mouse promoters, replacing the corresponding gene expression in mice.
■

AlbuMusTM express human albumin at a physiological level (within the normal range of 1.5–6 g/dL), and display normal blood chemistry.

■

The experimental data of blood chemistry of AlbuMusTM mouse is silmilar to that of the wildtype.

■

AlbuMusTM, double humanized FcRn/albumin mouse model maintains an normal autologous receptor/ligand interaction required for albumin-linked drugs and biologics (their half-life correlates with data obtained in non-human primates).

■

AlbuMusTM model can mimic the physiological status in humans,therefore it is widely used in the development of biologics that related to SA reversible binding proteins and conventional drugs.

■

The humanized FcRn/albumin mouse model is an uniquel tool for studying the PK/PD of albumin-linked drugs.
Validation Data: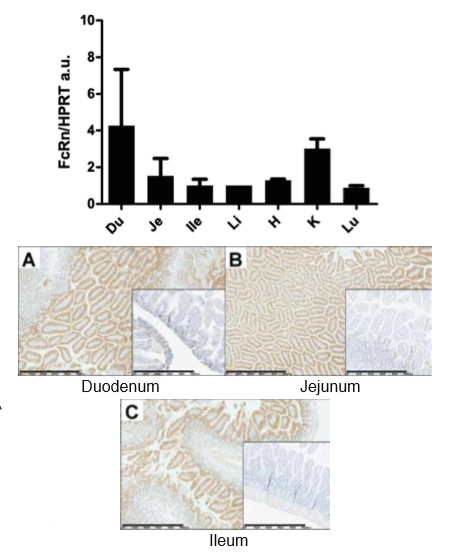 Graph 1. Expression of hFcRn is physiological. Upper panel: hFcRn expression (analyzed by qPCR) in duodenum (Du), jejunum (Je), ileum (iLe), large intestine (Li), liver (H), kidney (K), and lung (Lu) Lower panel: Immunohistochemical staining for hFcRn in HSA/FcRn humanized (large image) and wild-type (small insert) mice. No cross reactivity to mouse FcRn was seen in the wild-type mice (small insert).

Graph 2. Half-life of drug conjugated to human albumin is extended in our double humanized model. (Left) Albumin-bound drug 1: low affinity for hFcRn; (Right) Albumin-bound drug 2: high affinity for hFcRn

Graph 3. Half–life of a drug (Exenatide) conjugated with Veltis® is doubled in AlbuMusTM mice compared to wild type mice. In AlbuMusTM mice, the half–life of the Exenatide conjugated with HB-Veltis® is doubled compared to the one coupled with first generation technology (Veltis® NS). Therefore, the extended half-life of the compound is due to Veltis® high affinity for human FcRn.
Selected References:
Viuff D, Antunes F, Evans L, et al. Generation of a double transgenic humanized neonatal Fc receptor (FcRn)/albumin mouse to study the pharmacokinetics of albumin-linked drugs. Journal of Controlled Release, 2016: 22-30.
In 2020, Cyagen reached a strategic partnership with genOway. Founded in 1999, genOway is a leading international supplier of laboratory mice for preclinical scientific research. Cyagen is excited to introduce AlbuMusTM mice as one of the selected mice product introduced in the cooperation - Why do we recommend genOway's mouse model?
1. Robust verification by both Industry leaders and literatures: Services and products from genOway have been cited many times in high-impact academic journals such as Cell, Nature, Science, and PNAS. As a partner of the the EU Research and Innovation programme (Horizon 2020), its immune checkpoint (ICP) and severe combined immunodeficient (SCID) model series have been jointly verified by the company and its partners worldwide, including leaders in the fields of immuno-oncology and immunotherapy, large pharmaceutical companies, biotechnology companies, research institutions, and more.
2. Leading supplier of genetically engineered animal models in Europe and the United States: genOway has obtained patent licenses for all its technologies used to construct models, and is the only supplier that can guarantee you the opportunity to operate all the models on your own. Founded in 1999, genOway has 21 years of experience in animal model services, the company now has developed into a leader in the field of customized, genetically modified (GM) mouse, rat, and cell model creation, while serving international pharmaceuticals (Novartis, Pfizer, BMS, Janssen, and more.) and world-famous academic research centers (National Institutes of Health (NIH), Institut Pasteur, etc.) with their services.
3. Comprehensive Intellectual Property (IP) Protection: Clear and independent IP rights are an essential facet of successful drug discovery projects. genOway provides various disease animal models with a wide range of patents and license agreements to ensure that the IP rights of the model are clear. This guarantees you freedom to operate (FTO) along with the provisions of the model.
4. Specific Model Genetic Background: All models are provided on a specific genetic strain background, of accurate and traceable sources, and includes periodic genetic testing performed in colony maintenance to ensure the reproducibility of your research results.