Strain Name: BALB/c Rag2tm1Fwa Il2rgtm1Cgn SirpaNOD Flk2tm1lrl
Strain Background: BALB/c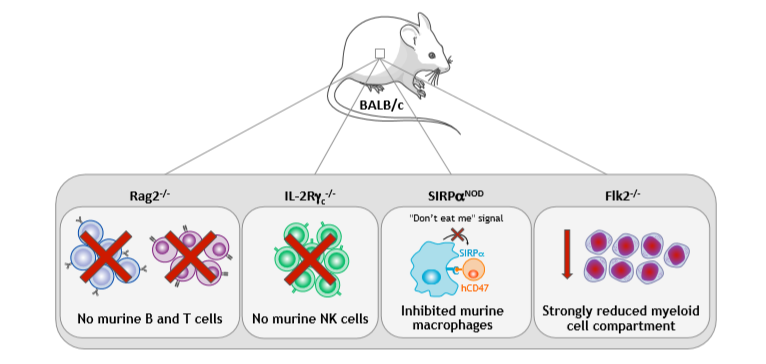 Features of BRGSF Mice
Strain Description:
●

One of the most highly immunodeficient mouse models on the current market: lack of mature T, B and NK cells; suppressed phagocytic function of macrophages, and strongly reduced myeloid compartment.

●

Suitable for evaluating the therapeutical effect of radiotherapy and constructing humanized mouse models: compaired to SCID mice, which are sensitive to radiation because of its Prkdc mutation, BRGSF mice are more radiation-tolerant while ensuring the absence of T cells and B cells (Rag2 knockout).

●

Highly compatible with various sources of cell line-derived xenografts (CDXs) and patient-derived xenografts (PDXs): the replacement of Sirpa gene from BALB/c background by its allele from NOD background (SirpaNOD) leads to markedly suppressed phagocytosis of murine macrophages towards human cells.

●

Flk2 knockout results in strongly reduced murine myeloid compartment, especially dendritic cells (DCs).

●

A powerful tool for complement-dependent cytotoxicity (CDC) studies because of the presence of a functional murine complement system.
Research & Application:
●

CDX and PDX

●

Myeloid compartment development

●

Vaccine development

●

Efficacy and safety assessment of cellular immunotherapy (e.g., CAR-T)

●

Efficacy assessment of antibody drugs (e.g., inoculating tumors into BRGSF mice reconstituted with human PBMC or HSC, and assessing the efficacy of antibody drugs)

●

Construction of mouse models with reconstituted human immune systems (e.g. BRGSF-HIS)
Model Validation: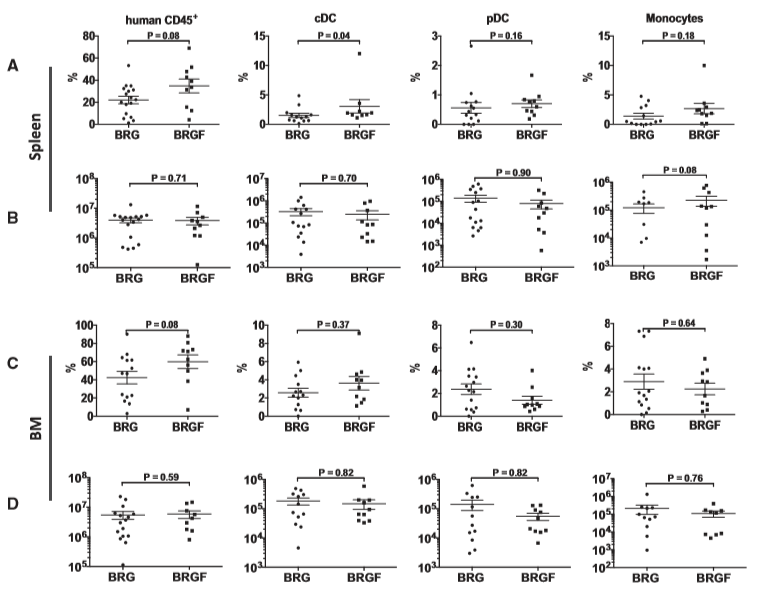 Figure 1. Human hematopoietic cell reconstitution in BRGF mice. The purified human peripheral blood mononuclear cells (PBMC) were injected into newborn BRGF pups irradiated at 3 Gy. The reconstitution of human hematopoietic cells was analyzed after 12 weeks, and defined as the ration between the percentage of hCD45+mCD45.2- and the percentage of hCD45+ plus mCD45.2.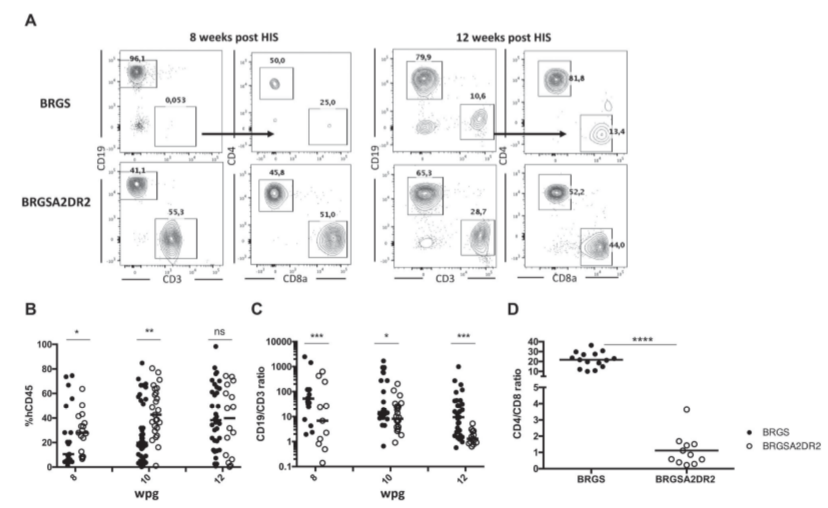 Figure 2. Kinetics of human cell reconstitution in the blood of BRGS and BRGSA2DR2 HIS mice. (A) Representative flow cytometry immune‐phenotypic analysis of hCD45+ blood cells at 8 weeks and 12 weeks post graft (wpg) in humanized BRGS and BRGS HLA‐A*02‐HHD class I and HLA‐DRB1*15 class II transgenic mice (BRGSA2DR2) reconstituted with HLA‐A*02+ HLA‐DRB1*15+ HSCs. (B) (C) Analysis of hCD45+ cells ratio in BRGS (full circle) and BRGSA2DR2 HIS (open circle) mice. (D) Comparison of the CD4/CD8 ratios in both models at 12 wpg.
Selected References:
1. Simpson, J. A.; Brown, M. E. Making HIS Mice More Human‐like. J. Leukoc. Biol. 2020, 107 (1), 9–10.
2. Lopez-Lastra, S.; Masse-Ranson, G.; Fiquet, O.; Darche, S.; Serafini, N.; Li, Y.; Dusséaux, M.; Strick-Marchand, H.; Di Santo, J. P. A Functional DC Cross Talk Promotes Human ILC Homeostasis in Humanized Mice. Blood Adv. 2017, 1 (10), 601–614.
3. Li, Y.; Mention, J.-J.; Court, N.; Masse-Ranson, G.; Toubert, A.; Spits, H.; Legrand, N.; Corcuff, E.; Strick-Marchand, H.; Di Santo, J. P. A Novel Flt3-Deficient HIS Mouse Model with Selective Enhancement of Human DC Development. Eur. J. Immunol. 2016, 46 (5), 1291–1299.
4. Legrand, N.; Huntington, N. D.; Nagasawa, M.; Bakker, A. Q.; Schotte, R.; Strick-Marchand, H.; de Geus, S. J.; Pouw, S. M.; Böhne, M.; Voordouw, A.; et al. Functional CD47/Signal Regulatory Protein Alpha (SIRPα) Interaction Is Required for Optimal Human T- and Natural Killer- (NK) Cell Homeostasis in Vivo. Proc. Natl. Acad. Sci. 2011, 108 (32), 13224–13229.
5. Valton J, Guyot V, Boldajipour B, et al. A Versatile Safeguard for Chimeric Antigen Receptor T-Cell Immunotherapies. Scientific Reports, 2018, 8(1).
In 2020, Cyagen reached a strategic partnership with genOway. Founded in 1999, genOway is a leading international supplier of laboratory mice for preclinical scientific research. Cyagen is excited to introduce BRGSF mice as a featured product line that represents the most adapted animal model to study and predict human immune responses in vivo. See why we recommend genOway's BRGS™ mouse model:
1. Robust verification by both Industry leaders and literatures: Services and products from genOway have been cited many times in high-impact academic journals such as Cell, Nature, Science, and PNAS. As a partner of the the EU Research and Innovation programme (Horizon 2020), its immune checkpoint (ICP) and severe combined immunodeficient (SCID) model series have been jointly verified by the company and its partners worldwide, including leaders in the fields of immuno-oncology and immunotherapy, large pharmaceutical companies, biotechnology companies, research institutions, and more.
2. Leading supplier of genetically engineered animal models in Europe and the United States: genOway has obtained patent licenses for all its technologies used to construct models, and is the only supplier that can guarantee you the opportunity to operate all the models on your own. Founded in 1999, genOway has 21 years of experience in animal model services, the company now has developed into a leader in the field of customized, genetically modified (GM) mouse, rat, and cell model creation, while serving international pharmaceuticals (Novartis, Pfizer, BMS, Janssen, and more.) and world-famous academic research centers (National Institutes of Health (NIH), Institut Pasteur, etc.) with their services.
3. Comprehensive Intellectual Property (IP) Protection: Clear and independent IP rights are an essential facet of successful drug discovery projects. genOway provides various disease animal models with a wide range of patents and license agreements to ensure that the IP rights of the model are clear. This guarantees you freedom to operate (FTO) along with the provisions of the model.
4. Specific Model Genetic Background: All models are provided on a specific genetic strain background, of accurate and traceable sources, and includes periodic genetic testing performed in colony maintenance to ensure the reproducibility of your research results.