Strain Background: C57BL/6N
Construction Strategy:
The humanized VISTA mouse model (hVISTA) is developed by Knockin at the mouse VISTA locus, and expresses a chimeric VISTA with a human extracellular, human transmembrane and murine intracellular domain.
hVISTA Features:
■

hVISTA expression displays physiological regulation and expression pattern

■

Fully functional mouse immune system

■

Lack of expression of the murine target gene, thus avoiding cross-reactivity
Research and Application:
■

The hVISTA mouse enables the in vivo efficacy assessment and profiling of immuno-oncology agents targeting the human immune checkpoint (ICP) VISTA in fully immunocompetent mice.

■

The conditional VISTA knockout mouse model allows the tissue-specific assessment of compounds'specificity and toxicity.

■

Cross with hPD-1 mice (hPD-1/hVISTA): This double humanized hPD1/hVISTA model enables assessment of both compounds targeting human VISTA and/or human PD-1 in immunocompetent mice.
Validation Data: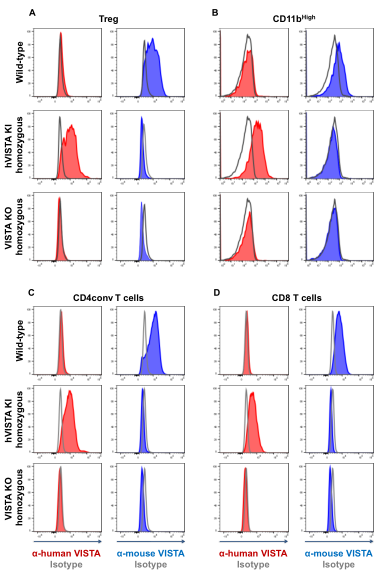 Figure 1. hVISTA expression pattern in hVISTA mice recapitulates mVISTA in WT mice. hVISTA and mVISTA expression on freshly isolated splenocytes on (A) Tregs (viable, CD3+CD4+CD25+FoxP3+), (B) CD11bhigh (viable, CD3-, CD19-), (C) conventional CD4+ (viable, CD3+CD4+FoxP3- ), and (D) CD8+ (viable, CD3+CD8+) T cells. VISTA is not detected on cells from VISTA KO homozygous mice.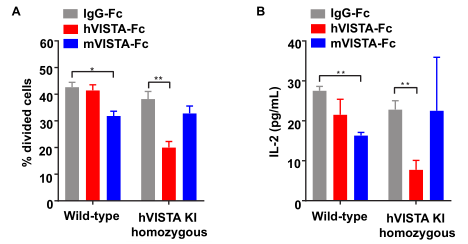 Figure 2. hVISTA is functional on effector T cells. Splenic and LN-isolated T cells (CD4+CD25-) activated with αCD3 and hVISTA-Fc, mVISTAFc or IgG-Fc for 3 days. (A) Cell proliferation determined by CFSE dilution. (B) IL-2 production measured by ELISA in culture supernatant. Results are expressed as mean±SD.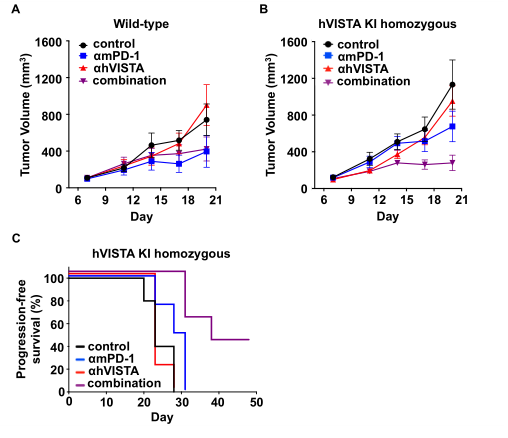 Figure 3. Anti-tumor effects in response to anti-human VISTA + anti-mouse PD-1 treatment. Mice of indicated genotype were inoculated with MC38 tumor cells s.c. and treated αKLH (control), αmPD-1, αhVISTA or αmPD-1 + αhVISTA (combination). Tumor volume measurement in (A) wild-type and (B) hVISTA KI homozygous mice at different time points. Results are expressed as mean±SEM. (C) Survival of treated hVISTA KI homozygous mice analyzed up to 50 days post MC38 tumor inoculation. In hVISTA mice, the combination of αmPD-1 and αhVISTA has the best anti-tumor effect.
Selective References:
1. Eltanbouly M A, Zhao Y, Nowak E C, et al. VISTA is a checkpoint regulator for naïve T cell quiescence and peripheral tolerance. Science, 2020, 367(6475).
2. Johnston R J, Su L J, Pinckney J, et al. VISTA is an acidic pH-selective ligand for PSGL-1. Nature, 2019, 574(7779): 565-570.