Strain Background: C57BL/6N
Construction Strategy:
The PD-1 protein consists of an extracellular domain, a transmembrane domain and an intracellular domain, and the extracellular domain contains an immunoglobulin variable domain. The humanized PD-1 mouse model (hPD-1) is developed by knockin at the mouse PD-1 locus, a chimeric PD-1 with a human extracellular domain, a murine transmembrane domain and a murine intracellular domain.
hPD-1 Features:
■

hPD-1 expression displays physiological regulation and expression pattern

■

The domain of mouse PD-1 protein is retained to ensure normal intracellular signal transduction

■

Fully functional mouse immune system

■

Lack of expression of the murine target gene, thus avoiding cross-reactivity
Research and Application:
The hPD-1 mouse enables the in vivo efficacy and safety assessment of compounds targeting PD-1 in fully immunocompetent mice:
■ Humanized tumor cell line MC38-hPD-L1:
Use hPD-1 mouse model together with cell line MC38-hPD-L1 as a syngeneic tumor model for testing the efficacy of combination therapies targeting human PD-1 and human PD-L1.
■ Cross with hVISTA mice (hPD-1/hVISTA):
This double humanized hPD1/hVISTA model enables assessment of both compounds targeting human PD-1 and/or human VISTA in immunocompetent mice.
Validation Data: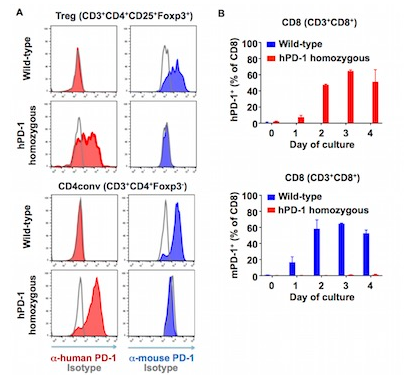 Figure 1. hPD-1 expression pattern in hPD-1 mice recapitulates mPD-1 in wild-type mice. hPD-1 and mPD-1 expression on αCD3/αCD28-activated splenocytes on (A) Tregs, conventional CD4+ at day 2 of culture and (B) on CD8+ T cells at the indicated time points.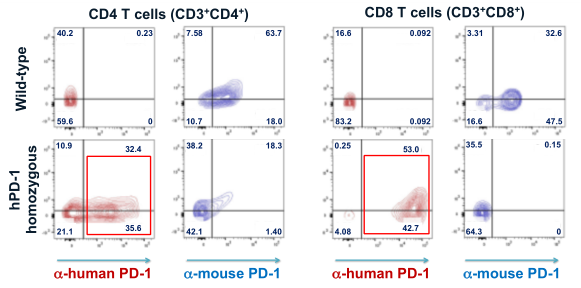 Figure 2. Expression of hPD-1 in tumor infiltrating lymphocytes (TILs) of hPD-1 mice. Isolating tumor infiltrating lymphocytes (TILs) from wildtype and hPD-1 mice at day 30 post MC38 tumor cells inoculation. hPD-1 mouse express hPD-1 protein in CD4+ T cells and CD8+ T cells, while wildtype mice express mPD-1 protein.

Figure 3. T cell activation (IL-2 production and proliferation) is unbiased in hPD-1 mice vs wild-type. (A) IL-2 production was measured by ELISA in the supernatant of aCD3/aCD28-activated splenocytes. (B) CSFE dilution in aCD3-activated pool of splenic and LN CD4+ T cells (viable, CD4+, CD25-).

Figure 4. In vivo anti-tumor activity is observed in response to anti-PD-1 treatment in hPD-1 mice. Tumor volume in hPD-1 homozygous mice treated with αhPD-1 (mAb A, B and C) or isotype control at day 28 post MC38 tumor cells inoculation. (B) Survival of mice of indicated genotype implanted intracranially with GL261 murine glioma cells and treated with αhPD-1 or αmPD-1.