Strain Background: C57BL/6N
Construction Strategy:
The humanized OX40 mouse model (hOX40) is developed by Knockin at the mouse OX40 locus and expresses a fully humanized OX40 protein with a human extracellular, human transmembrane and murine intracellular domain.
hOX40 Features:
■

hOX40 expression displays physiological regulation and expression pattern

■

Preservation of the target-ligand interaction

■

Fully functional mouse immune system

■

Lack of expression of the murine target gene, thus avoiding cross-reactivity
Research and Application:
The hOX40 mouse enables the in vivo efficacy assessment and profiling of immuno-oncology agents targeting the human immune checkpoint (ICP) OX40 in fully immunocompetent mice.
Validation Data:

Figure 1. hOX40 expression pattern in hOX40 mice recapitulates mOX40 in WT mice. hOX40 and mOX40 expression on splenocytes activated with αCD3/αCD28 in presence of mIL-2: on (A) Tregs (viable, CD3+CD4+CD25+FoxP3+), (B) conventional CD4+ (viable, CD3+CD4+FoxP3- ), and (C) CD8+ (viable, CD3+CD8+) T cells at day 3 of culture. Kinetic of hOX40 and mOX40 expression on (D) Treg and (E) conventional CD4 and (F) CD8 T cells. Results are expressed as mean±SD.

Figure 2. hOX40 is functional on effector T cells ex vivo. Splenic and LN-isolated T cells (CD8+) activated with αCD3/αCD28 and immobilized hOX40L or IgG-Fc - it can be seen that hOX40L treatment significantly promoted the proliferation of T cells (CD8+) and the secretion of IFN in hOX40 mice. (A) Flow chart. (B) Representative histogram and (C) mIFN-γ production measured by ELISA in culture supernatant.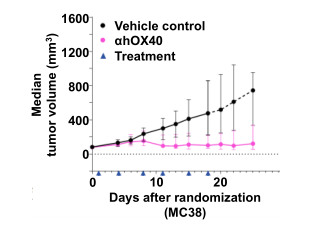 Figure 3. In vivo anti-tumor activity is observed in response to ahOX40. hOX40 mice bearing MC38 tumor were treated with ahOX40 (BMS-986178 analog). The proliferation of tumor was significantly inhibited compared to the control.