Strain Background: C57BL/6N
Construction Strategy:
The humanized LIGHT mouse model (hLIGHT) is developed by knockin at the mouse LIGHT locus, and expresses a chimeric LIGHT with a human extracellular, human transmembrane and murine intracellular domain.
hLIGHT Features:
■

hLIGHT expression displays a physiological regulation and expression pattern

■

Fully functional mouse immune system

■

Lack of expression of the murine target gene, thus avoiding cross-reactivity
Research and Application:
The hLIGHT mouse enables the in vivo efficacy assessment and profiling of immuno-oncology agents targeting the human immune checkpoint (ICP) VISTA in fully immunocompetent mice.
Validation Data: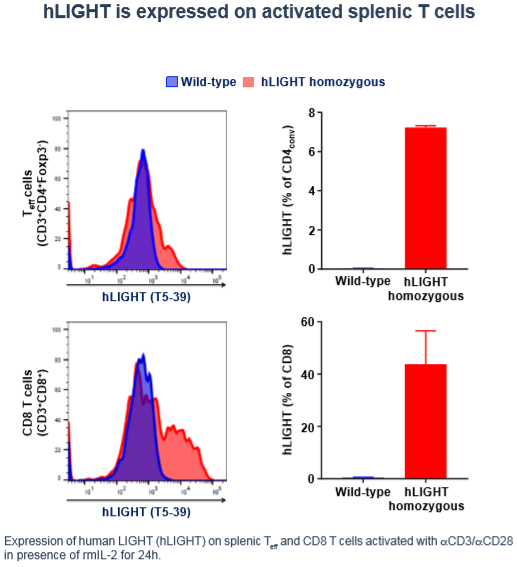 Figure 1. hLIGHT is expressed on activated splenic T cells. Expression of human LIGHT (hLIGHT) on splenic Teff and CD8 T cells activated with αCD3/αCD28 in presence of rmIL-2 for 24h. hLIGHT is expressed on spleen effector T cells and CD8 T cells, but not on splenic T cells of WT mice.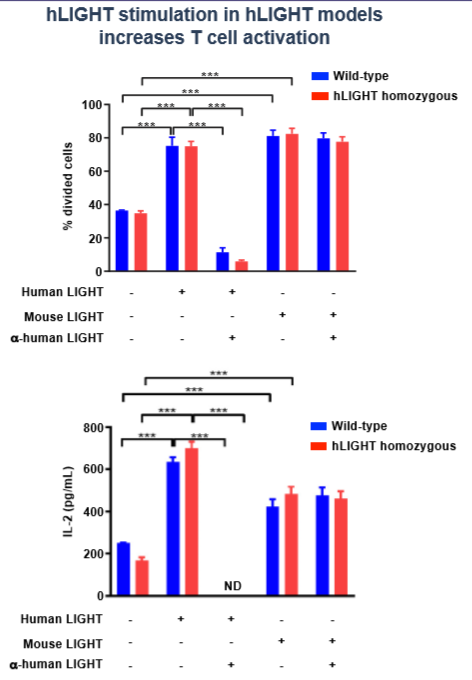 Figure 2. hLIGHT stimulation in hLIGHT models increases T cell activation. T cells from wild-type and hLIGHT mice were stained with CTV and activated with coated amCD3, with or without recombinant mouse (rm) or human LIGHT, and with or without a-human LIGHT. At day 4 proliferation was measured by FACS (A), and IL-2 production was measured in the supernatant (B).