Strain Background: C57BL/6N
Construction Strategy:
The humanized GITR mouse model (hPhGITR) is developed by knockin at the mouse VISTA locus and driven by the endogenous promoter. It expresses a chimeric GITR with a human extracellular and murin intracellular domain.
hGITR Features:
■

hGITR expression displays physiological regulation and expression pattern

■

Fully functional mouse immune system

■

Lack of expression of the murine target gene, thus avoiding cross-reactivity
Research and Application:
The hGITR mouse enables the in vivo efficacy assessment and profiling of immuno-oncology agents targeting the human immune checkpoint (ICP) GITR in fully immunocompetent mice.
Validation Data: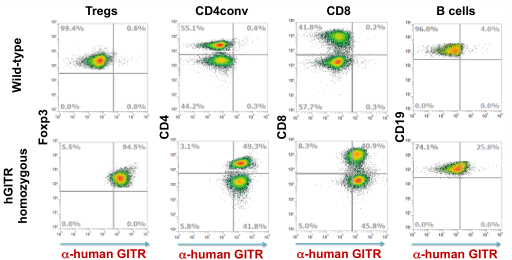 Figure 1. hGITR expression is induced after stimulation. Expression of human GITR on αCD3/αCD28 stimulated splenocytes (2 days), analyzed by flow cytometry on Treg (CD4+ Foxp3+), conventional CD4 (CD4conv) T cell (CD3+CD4+), CD8 (CD3+CD8+) and B cells (CD3-CD19+).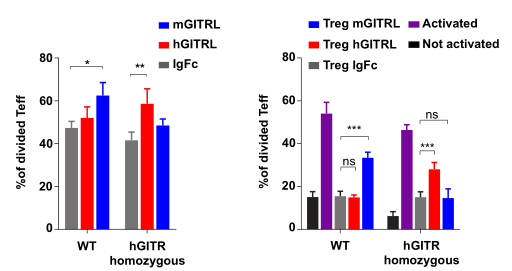 Figure 2. hGITR is functional ex vivo in effector T cells and Tregs. Treg (CD4+Foxp3+) stimulated or not with mouse or human GITRL for 2h and then co-cultured with CD4conv T cells (CD4+CD25- ) labeled with CFSE and activated with aCD3 +/- human GITRL.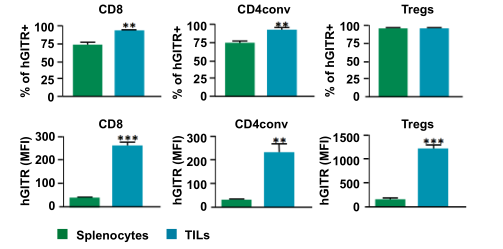 Figure 3. hGITR is induced on TILs. Isolating splenocytes and tumor-infiltrating lymphocytes (TILs) from hGITR mice with MB49 bladder cancer after MB49 injection, hGITR expression on Treg (CD4+Foxp3+), CD4conv (CD3+CD4+) and CD8 (CD3+CD8+).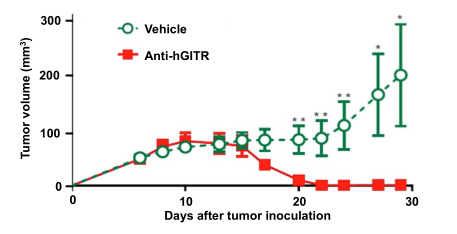 Figure 4. In vivo anti-tumor effect in response to anti-hGITR mAb treatment. Wild-type and hGITR homozygous mice were respectively inoculated with MB49 bladder cancer cells, treatment with anti-hGITR inhibits tumor growth in hGITR homozygous mice.