Strain Background: C57BL/6N
Construction Strategy:
The design of the CTLA-4 humanized model, is developed by knockin at the mouse CTLA-4 locus, enables the expression of: a) the full length chimeric CTLA-4 isoform (human extracellular domain and mouse intracellular domain); and b) the soluble isoform (human extracellular domain).
hCTLA-4 Features:
■

The PD-1 extracellular domain is entirely humanized

■

hCTLA-4 expression displays physiological regulation and expression pattern

■

The domain of mouse CTLA-4 protein is retained to ensure normal intracellular signal transduction.

■

Fully functional mouse immune system

■

Lack of expression of the murine target gene, thus avoiding cross-reactivity
Research and Application:
The hCTLA-4 mouse enables the in vivo efficacy assessment and profiling of immuno-oncology agents targeting the human immune checkpoint (ICP) CTLA-4 in fully immunocompetent mice. And you can also entrust Cyagen to construct CTLA-4 conditional knockout mice for a tissue-specific assessment of drug specificity and toxicity.
Validation Data: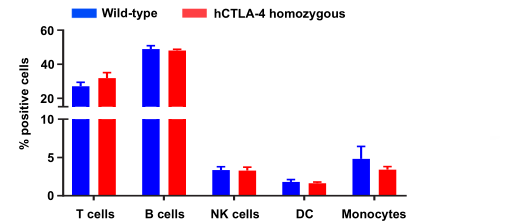 Figure 1. Immune cell (T cells, B cells, NK cells, DC cells and monocytes) distribution in hCTLA-4 mice is similar to that of WT mice, and immune cells of mice function normally.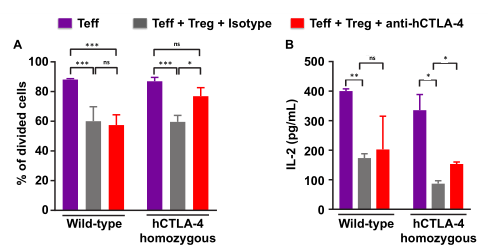 Figure 2. hCTLA-4 is functional: α-human CTLA-4 decrease hCTLA-4 Tregs suppressive activity. Isolated CD4+CD25- (Teff) labeled with CFSE and activated with soluble αmCD3 and APC +/- (CD4+CD25+) Treg and CTLA-4 antibody. (A) CFSE dilution was assessed by flow cytometry; (B) IL-2 production was measured by ELISA in the supernatant.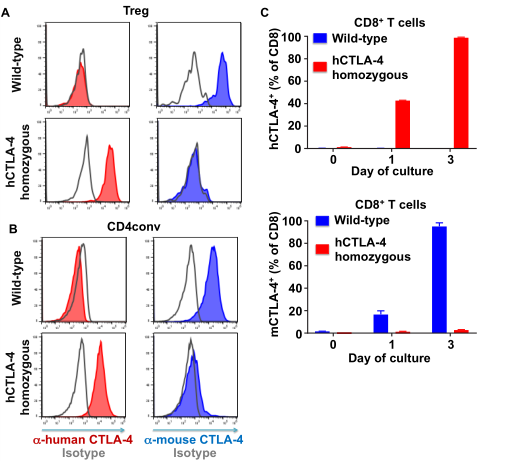 Figure 3. hCTLA-4 expression pattern in hCTLA-4 mice recapitulates mCTLA-4 in WT mice. hCTLA-4 and mCTLA-4 expression on αCD3- activated splenocytes on (A) Tregs (viable, CD3+CD4+CD25+FoxP3+), (B) conventional CD4+ (viable, CD3+CD4+FoxP3-) at day 3, and (C) CD8+ (viable, CD3+CD8+) T cells at indicated time points.

Figure 4. In vivo anti-tumor activity is observed in response to anti-human CTLA-4 in hCTLA-4 mice.