Strain Background: C57BL/6N
Construction Strategy:
The humanized CD28 mouse model (hCD28) is developed by Knockin at the mouse CD28 locus, and expresses a chimeric CD28 with a human extracellular, human transmembrane and murine intracellular domain.
hCD28 Features:
■

CD28 expression displays a physiological regulation and expression pattern

■

Fully functional mouse immune system

■

Lack of expression of the murine target gene, thus avoiding cross-reactivity
Research and Application:
The hCD28 mouse enables the in vivo efficacy assessment and profiling of immuno-oncology agents targeting the human immune checkpoint (ICP) CD28 in fully immunocompetent mice.
Validation Data: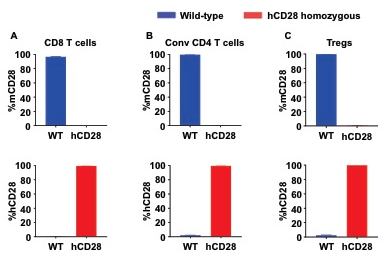 Figure 1. hCD28 expression pattern in hCD28 mice recapitulates mCD28 in wild-type mice. hCD28 and mCD28 expression on freshly isolated splenocytes on (A) CD8+ (viable, CD3+CD8+) T cells, (B) conventional CD4+ (viable, CD3+CD4+Foxp3-), and (C) Tregs (viable, CD3+CD4+CD25+Foxp3+).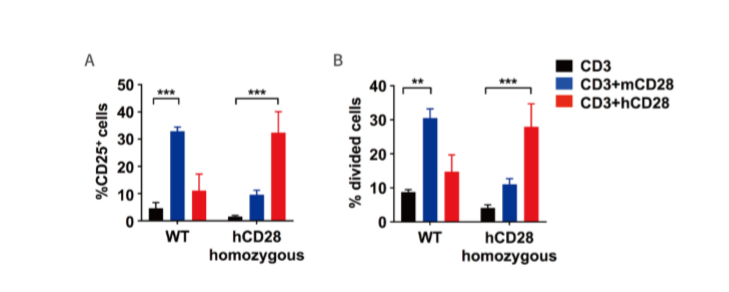 Figure 2. hCD28 functionality: α-human CD28 co-stimulation induces T cell activation and proliferation. Isolated T cells were labeled with CTV and activated with αCD3 and soluble mouse or human αCD28 for 4 days. Representative FACS bar Figures indicating (A) CD25 expression as a marker of activation, and (B) CTV dilution (as a measure of proliferation) gated on live T cells.