This reliable Foxp3 reporter mouse model allows you to efficiently monitor and sort Foxp3-expressing cells from different lymphocyte lineages and lymphoid organs, and represents a powerful drug testing tool to:
■

Study the modulation of the immune tolerance mechanism in autoimmune diseases

■

Treat cancers via immune checkpoint inhibitor discovery
This model is widely used and validated, with more than 50 publications available from independent renowned laboratories.
Strain Background: C57BL/6J
Model Features:
■

mRFP reporter faithfully mirrors Foxp3 expression

■

The expression of endogenous Foxp3 is not affected by the inserted gene
Model Validation:
Foxp3 is the regulatory T cell-specific transcription factor that functions as the master regulator of the development and function of regulatory T cells.
This Foxp3-IRES-mRFP (FIR) mouse model provides access to direct in vivo detection of Foxp3-expressing cells. In contrast to other existing Foxp3 models generated by random insertion, this knockin mouse line preserves physiological expression of Foxp3 and enables monitoring of endogenous Foxp3.
No deregulation of endogenous Foxp3 expression
●

Endogenous Foxp3 is expressed and functional: reporter gene inserted in the 3'UTR of the endogenous Foxp3 locus

●

Reporter faithfully mirrors Foxp3 expression
Suitable model for your Treg studies
●

Foxp3-expressing cells can be directly detected by monitoring mRFP expression (Fig. 1)

●

Uncompromised immune system: intact function of Treg cells (Fig. 2)

●

Optimum monitoring of Treg cells trafficking and cell sorting

Figure 1. mRFP expression correlates with Foxp3-expressing T cells in vivo.
Left panel: Foxp3 expression was detected in peripheral lymphocytes from Foxp3-IRES-mRFP mice harvested and stained with fluorophore-conjugated anti-CD4 and anti-CD25 antibodies. mRFP expression in CD4 T cells was monitored by flow cytometry.
Right panel: RNA was extracted from different populations of peripheral CD4 T cells purified from FIR mice by FACS. Relative mRNA levels of Foxp3 were determined by TaqMan real-time quantitative PCR, and combined results of two experiments were plotted.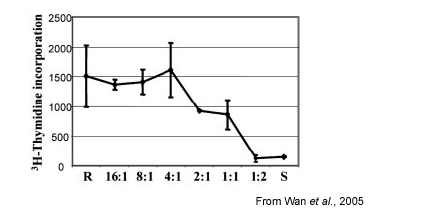 Figure 2. mRFP expression does not compromise the regulatory activity of Foxp3-expressing T cells in vivo. The immunosuppressive function of Foxp3-expressing cells is not impaired when mRFP is co-expressed. CD4+mRFP+ suppressor (S) and CD4+CD25-mRFP- responder (R) T cells were purified by FACS. Suppressor and responder cells were either cultured alone or mixed at indicated ratios (R: S), whereas the number of responder cells remained the same. T cells were activated by soluble anti-CD3 and anti-CD28 antibodies in the presence of irradiated APCs. Three days after stimulation, T cell proliferation was measured by a [3H] thymidine incorporation assay.
Selective References:
1. Wan YY; Flavell RA. 2005. Identifying Foxp3-expressing suppressor T cells with a bicistronic reporter. Proc Natl Acad Sci USA 102(14):5126-31.
2. Gutcher I; Donkor MK; Ma Q; Rudensky AY; Flavell RA; Li MO. 2011. Autocrine Transforming Growth Factor-beta1 Promotes In Vivo Th17 Cell Differentiation. Immunity 34(3):396-408.
3. Chae WJ; Gibson TF; Zelterman D; Hao L; Henegariu O; Bothwell AL. 2010. Ablation of IL-17A abrogates progression of spontaneous intestinal tumorigenesis. Proc Natl Acad Sci USA 107(12):5540-4.